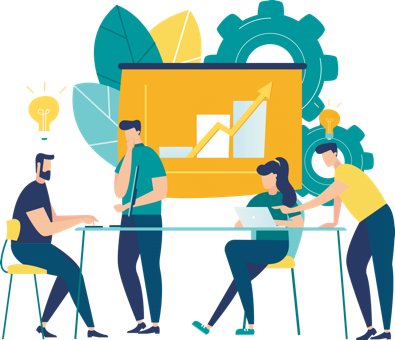 Being part of the central team
Our friendly and dedicated central team of experts support all our academies to achieve the best outcomes.
About the central team
Having a centralised support structure means that teachers and leaders at academies can focus on teaching and providing the best education to their students rather than worrying about things like invoices, contracts and recruitment. Thanks to economies of scale, our centralised team saves academies money and relieves some of the pressure on academy staff, allowing them to focus on what they do best; providing a first-class education to our young people.
Departments within head office include: Finance, HR, Talent Acquisition, IT, Internal Audit, Estates Management, Procurement, Fundraising, Governor Services, Data Management, and MIS.
Working at head office
Flexible working arrangements
For our staff at head office, we offer lifestyle friendly working arrangements including flexible start and end times, and hybrid working with 2 days from home and 3 days either with your team at the office in East Croydon or visiting one of our academies.
East Croydon
East Croydon is a diverse area in South London with several historic buildings and landmarks. In recent years, East Croydon has seen significant regeneration, resulting in a growing selection of shops, restaurants, cafes, and bars. The area also has several green spaces and parks, offering some tranquility from the hustle and bustle of city life.
It also has strong transport links, with East Croydon train station providing easy access to and from central London and the south coast.
Overall, East Croydon is a dynamic and thriving area that provides an ideal working environment for our central team.
Apprenticeships
Wherever you are in your career, you can take it further with an apprenticeship!
Our apprenticeship programmes will help you to gain the skills and qualifications to progress your career. We support a wide range of programmes across career paths, including HR, Cyber Security, IT and Project Management.
These programmes are a great opportunity to receive high-quality training and personal development. On completion of some apprenticeships, you can also gain an industry qualification such as CIPD, AAT, and PMQ. You will be fully supported and mentored through your apprenticeship and be given protected time to complete your studies.
As a Federation, we want to invest in the career development of our staff; where a programme typically requires top-up fees as part of the apprenticeship completion such as the MBA, we will fully fund these in addition to accessing the levy funding to pay for the apprenticeship programme.
Joining as an apprentice
Whether you are just leaving education, changing careers or returning to work - if you're looking for a long and lasting career, this is your chance to receive excellent training and personal development. Our apprenticeship programmes will help you to gain technical and functional knowledge, whilst acquiring on the job practical experience.
You'll be involved in projects that make a real impact and, whatever your skills area, you'll be contributing towards our mission to transform education across London.
Every day has been a step in the right direction, and I've been able to learn something new. Everyone's been really supportive and I've enjoyed every minute of it.

Bilal, IT Apprentice
Growing your career with an apprenticeship
As well as being a fantastic introduction to a career, our apprenticeship programmes are also our most popular learning and development pathway for our central team. We have made a commitment to support our staff to grow, develop, and reach their full potential by using our apprenticeship levy. Wherever you are on your career journey, there will be a programme that will help you to enhance your role or advance your career.
Overall, I really enjoyed the experience of developing my knowledge and seeing that progression, not just in myself but also in my team that were developing as individuals through the skills I was learning.

George, Talent Acquisition Partner
Benefits of an apprenticeship
As well as the full package of benefits that you receive as a Harris employee, as an apprentice, you will also have access to apprenticeship-specific benefits.
NUS Apprentice discounts
For just £11 for 12 months, you can get an NUS Apprentice Extra card, for you to access a huge range of instore and online discounts on everything from fashion and grocery shopping, to leisure and fitness activities.
TfL discount
If you're in your first year of an apprenticeship, you can get discounted travel with an Apprentice Oyster photocard.