Online NPQ programmes: Hear from our participants
Following up on our previous piece with Gene Payne, Head of the Federation Teaching School, we have been able to compile some fantastic feedback over our online NPQ programmes. As the April/May 2020 NPQonline courses draw to a close, the response of over 100 Harris participants to-date to their online experience has been overwhelmingly positive.
We have been impressed by the engagement of participants in the online medium and this speaks very well for the Federation's Teaching School professional learning culture.
Within our most recent report, a large number of verbatim quotes from our participants were particularly positive about their experience. Considering the transition to online programmes, there was much anticipation of how this will be received. One NPQML participant wrote in her evaluation:
'With the current situation going on around us at the moment, I was concerned about this being a whole online course and was worried that without face-to-face meetings I would not gain much from this. However, the way this was set up (broken down into individual tasks, a mixture of group/peer conversations and the excellent guidance and questions from our facilitator) I feel I have gained a lot from this course, have really developed my project and have a much clearer understanding of how I, as a leader, will be able to implement it into my school setting.'
Evaluation statistics
Looking broadly over the last programme statistics, we are glad to present that participants are very positive in their evaluations. To-date, 100% of them have judged all aspects of the courses to be effective. Overall, it has been fantastic to receive such positive feedback. As much as this reflected the effectiveness of our teaching school body, it does great to show the dedication to growth and learning in our participants!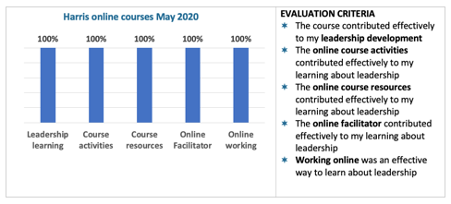 The Harris Federation Teaching School Alliance is the professional development centre for the Harris Federation. We provide high-quality training to schools and academies in and around London. Careful consideration has gone into the planning for the Aspiring Leaders suite of professional qualifications to ensure that it is the highest quality professional development available for teachers, and that learning outcomes have a direct impact on improving schools.
To learn more about how you can develop as a leader, click here for more information on our teaching school, NPQ programmes and how you can apply.
Connect with us…
and stay up to date with all things Harris Careers!