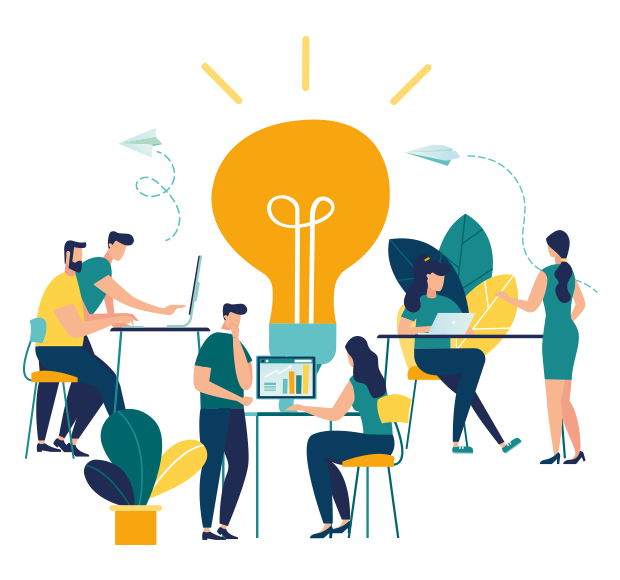 Training at Harris
At the Harris Federation, we want our staff to push themselves to be as good as they can be. That's why we offer a myriad of training opportunities
At Harris we offer a wide range of training and development opportunities for teaching and non-teaching staff as well as senior leaders and new starters. In addition to these structured qualifications, working at Harris means you will have access to support, coaching and mentoring by senior members of staff from across the Federation. We give our staff everything they need to develop their careers in whichever direction they want and support their decisions every step of the way.
Train as a Teaching Assistant
Working as a Teaching Assistant in a Harris academy is an incredible way to experience all aspects of school life and learn from our experienced teachers and expert classroom practitioners.
You'll be making a difference from day one providing either 1:1 tuition, or support to small groups of students with varying abilities in a subject (secondary) or year group/key stage (primary). You will be encouraging pupils to reach their full potential, supporting the students with their learning, as well as helping to organise the teaching and learning resources available to students and staff.
There are two different routes to becoming a Teaching Assistant at a Harris academy; Graduate Teaching Assistants and Apprentice Teaching Assistants. The roles within the classroom are almost identical, but each has different entry requirements.
Graduate Teaching Assistants will need to have recently achieved or be studying towards an undergraduate degree, ideally with a grade or predicted grade of 2:1 or higher. For secondary education TA roles, we are particularly interested in hearing from you if you have a degree in Maths, Science, English, History, Geography or Languages.
Apprentice Teaching Assistants do not require any specific qualifications, just the commitment and drive to play an integral role in the classroom and the education of the students we serve.
As a Teaching Assistant at Harris, you will gain invaluable classroom experience to help develop your knowledge and skills ahead of teacher training. Many of our teaching assistants go on to complete their teacher training through our School Direct programme with Harris Initial Teacher Education (ITE).
Our Graduate and Apprenticeship Teaching Assistants are term time only and typically full-time (Monday to Friday, school hours), although part-time opportunities may be available depending on requirements and capacity at the individual academy.
We regularly recruit Teaching Assistants for both primary and secondary Harris academies (Early Years to Key Stage 5) and can be a great first step towards teacher training.
Apply now for a Teaching Assistant job
Apply now
Start your teaching career at Harris
School Direct Programme
Are you a successful graduate, either straight from university or a career changer who can bring industry and subject expertise into the classroom?
Our outstanding School Direct teacher training programme offers a strong support network and exciting environment in which to train. We have combined the best elements from a range of training routes to ensure that our Early Career Teachers leave the course feeling supported, confident and well-prepared.
We offer year-long primary and secondary teacher training programmes to graduates and career changers joining the teaching profession through our Harris School Direct programme.
Early Career Teachers
We are very proud of the Harris ECT Induction Programme. Our programme ensures that your future career and professional development builds on the individual ethos and vision of the academy in which you work, yet recognises where collaboration and best practice can be shared across the Harris Federation.
Our ECT programme is designed to build on your training year, to further develop your classroom practice, self-evaluation, professional, subject and curricula knowledge. It also provides a supportive network of colleagues with whom to share ideas, experiences and best practice.
All our ECTs attend a dedicated welcome conference early in the autumn term to introduce the induction programme and to meet key staff. In addition to high profile keynote speakers, there are a range of high-quality workshops to create a bespoke training experience for each ECT.
As a Harris ECT, you will have a mentor to guide you through your first year as a qualified teacher. Your mentor will meet with you each week and provide regular support so that you continue to develop excellent classroom practice. Mentors themselves are supported and trained in order to offer you the best support possible.
Our ECTs receive subject and age phase specialist training from our central team of consultants and outstanding practitioners. These bespoke sessions are an opportunity to develop specific skills and to develop networks with colleagues across the Federation.
You do not need to have followed Harris' School Direct route to be considered for an ECT role at Harris. We accept applications from ECTs who have followed any route into teaching, including PGCE, BEd, Assessment Only and Teach First.
Contact us to find out more about Early Career Teaching roles with Harris.
Learn more about our Initial Teacher Education offering
Find out more
Take the next step in your teaching career
At Harris, we are committed to nurturing teachers and developing middle leaders with a range of diverse opportunities to support and facilitate development unique to you.
Through the School-Led NPQ Network we offer a range of training programmes. These include:
NPQLT – Leading Teaching
NPQLTD – Leading Teacher Development
NPQLBC – Leading Behaviour and Culture
NPQLL – Leading Literacy
NPQEYL – Early Years Leadership
Support is a central component to our NPQ facilitator-led programmes, with 1-1 mentorship and coaching available on all courses.
The School-Led Network programmes build on what we know from practice works; enabling leaders to enhance their leadership and develop others. We're committed to sharing learning and building capability with other schools to enable these new programmes to achieve maximum impact by raising the bar to improve outcomes for young people.
Find out more about training opportunities for our teachers
Find out more
Training for aspiring leaders
Through the School-Led NPQ Network we offer a range of training programmes for those looking to grow into senior leadership roles. We provide supported leadership pathways to help staff progress their careers and take on extra responsibilities at a pace that suits them.
Potential NPQ programmes include:
NPQSL – Senior Leadership
NPQH – Headship
NPQEHCO – Early Headship Coaching Offer
NPQEL – Executive Leadership
Find out more about Senior Leadership training opportunities
Find out more
Return to teaching
Ready to return to teaching? We provide a supported, flexible approach to individuals looking to get back into the classroom. Our formal training and mentoring programme can be a flexible way to rediscover your subject or specialism, and develop over time into a full or part-time teaching role. We have many different approaches to support your return to teaching, all based on your individual skills, knowledge and experience.
No matter what stage you left off at in your teaching career, we have a diverse range of supported routes back into teaching. We want to ensure you can make your first step back to teaching, a confident one.
You will benefit from a phased approach to help you regain your confidence under the guidance and supervision of outstanding experienced teachers – while our students will benefit from your new-found, real-world experience gained outside the profession.
Contact us to discuss returning to teaching
Contact us
Support staff training
Across the federation, whether you are in a teaching role or a non-teaching role, we encourage our staff to continually develop and progress in their careers. This may take the form of sending staff on one off training sessions or conferences, or it could be continual support as they undertake a professional qualification.
For those interested in joining the Harris Federation, our apprenticeships offer school-based training and development to help you gain technical and functional knowledge, whilst acquiring on the job practical experience.
As an apprentice, you will work as a full-time employee onsite at one of our academies, receiving fully funded apprenticeship training and support. Qualifications range between 1-5 years to complete depending on the level.
The Harris Federation partners with selected training providers who deliver our apprenticeship programmes. Applicants will need to attend a pre-interview assessment centre prior to being considered for an apprenticeship.