Online NPQs: A Few months on
Online NPQs: A Few months on
Following up with the Teaching School Team, this week's blog touches base on our online NPQ courses, with Teaching School Administrator Minda Lising. Picking up where we left off, our Teaching School provisions have largely been affected by the pandemic (much like most teaching development and CPD providers) in its face-to-face session structure. Thankfully, the transition to a digital facility in collaboration with NPQOnline, has meant that there has been a steady and dedicated response from our participants to keep going without staff sacrificing quality training and support.
ML: "As Teaching School Administrator, I manage the NPQ programmes and work specifically with the NPQ participants to support them throughout their course, monitoring their progression and acting as a key visible point of contact for queries, help and more.
Before COVID-19 hit, some of my key day-to-day responsibilities consisted of venue and event organisation, as this was an integral part of our courses. Since the transition to online facilitation, the NPQs have kept great momentum. Both in our numbers and in our results. It is really encouraging to see that level of engagement rocket even now in our new online home."
Going strong
In the past year, we have been able to maintain a 97-100% pass rate across our NPQs and this has not been affected in recent, despite the changes needed to maintain NPQ courses safely.
In May 2020, 117 course participants engaged in 6 two-week online courses for the NPQ programmes. Of those participants who started online courses with us, 97% completed the courses and 100% of those who finished completed a detailed evaluation form. In June-July 2020, a further 200+ Harris participants took a total of 9 online courses.
Participants evaluated five aspects of their online courses, in relation to the impact of each course on their development. The graphs below show the percentage of participants who agreed that each course aspect was effective. 97.4% of all participants reported that the online courses contributed effectively to their leadership development.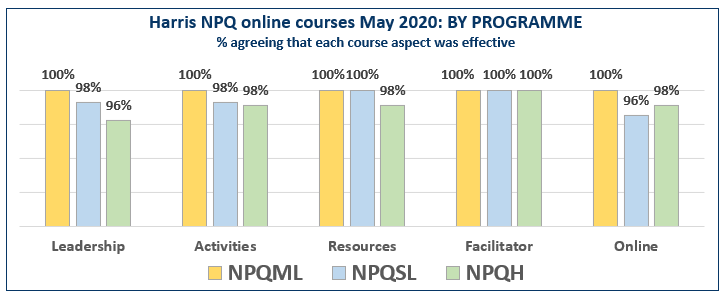 Onwards and upwards
Moving towards July, 309 course participants engaged in 15 two-week online courses for the NPQ programmes. Of those participants who started online courses with us, 98% completed the courses and 98% of those who finished completed a detailed evaluation form with an overarching positive response to the programmes and its elements.
ML: "As time goes on, we have had an overwhelmingly positive response to the online programmes. One of our initial hesitations were that the programmes would lose retention and become less engaged with as we understood the immense pressure and business our participants had in their day-to-day roles remotely. However, we have found that in the flexibility of our 2-week module structure, has allowed for participants to work around their own schedules and engage with the course at their own leisure. The encouraged participation in group discussions has given participants an opportunity to work together as they might have done before, creating open and collaborative forums within their cohorts. This has also boosted our participant numbers; we seem to be consistently growing cohort to cohort which is great. So, all in all, there have been fantastic responses to the transition."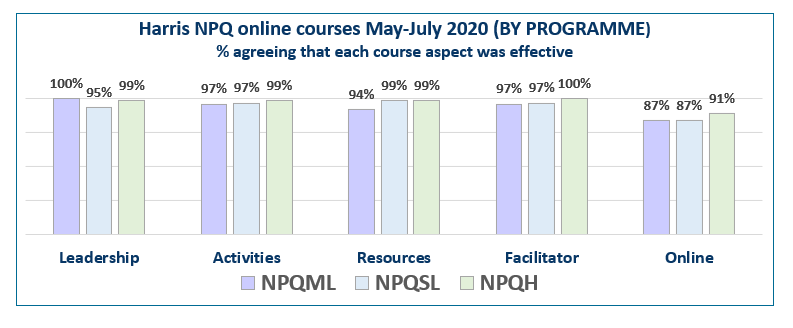 Participant responses
A few months on, we have been able to collate a large number of our feedback forms and rounded them up below. Echoing an overall positive response, we are excited to move forward with our most recent cohort starting this September. If you would like more information on the courses available through the Teaching School, click here.
NPQML
NPQSL
NPQH
Connect with us…
and stay up to date with all things Harris Careers!