HAP Nominated for Four Diversity Awards
At Harris Academy Peckham, they are deeply proud of their rainbow community. For this reason, we are delighted to announce that Harris Academy Peckham has been nominated in the following four categories in the National Diversity Awards.
Rosa Parks Community Award
Organisation Award
Safeguarding and Welfare
Curriculum Excellence
Each week, HAP will share on the website the narrative behind these nominations. If you would like to help bolster our chances and become part of this process please contact Mr Tate at a.tate@harrispeckham.org.uk.
HAP students embody all aspects of LEAP (Leadership, Enquiry, Aspiration and Perseverance) from their distinct backgrounds and rich cultural capital. HAP Students are keen to use the LEAP ethos to nurture this so that they can all go on to make a deeply positive impact on Peckham, London, the UK and the world.
This week's Diversity Highlight - Curriculum Excellence
The killing of George Floyd in America and the subsequent protests that ensued, have served as a catalyst in many ways. Here at Harris Academy Peckham, it sparked an internal review of staff's feeling and attitudes about racism.
From these discussions we were prompted to do a curriculum audit to ascertain how effectively we were practicing diversity and inclusion as an institution. Each department was tasked with identifying actions taken in the past, current strategies and future aspirations that demonstrate we are catering to BAME staff, students and community.
The audit revealed the following:
There were several activities in the recent past, in particular in English and History
Our departments sharing of best practice helps bolster the quality of our curriculum
All departments are now cyclically reviewing their curriculum to further reflect on embedding a representative curriculum and boost cultural capital
Our student leadership team now act as diversity advisors for the academy curriculum so that our students are world-ready, global citizens.
Here are examples of areas which highlight the work done with our curriculum:
Key Stage 3
History
Year 7. Study of Islamic civilisation - including the medical advancements that have benefited the world throughout history.
Year 8. Study of the Trans-Atlantic Slave Trade and the British Empire - focusing on the experiences on different countries including Ireland, India and African nations.
Year 9. Study of American and British Civil Rights Movements, including focusing on the experiences of Black British people before the Windrush Generation.
RS
In the Summer term students have looked at religion in the media exploring issues of solidarity in the Black Lives Matter Movement with those battling Holocaust Denial online.
In Year 11 students have explored issues of human rights in context of the Martin Luther King's quote: "An injustice anywhere is an injustice everywhere".
English
Year 7. Inclusion of poetry by Black poet Maya Angelou.
Year 8
Autumn – Diverse Shorts. Texts that include short stories and extracts written by diverse writers, including Black writers.
Spring – introduction of postcolonial literary theory in the reading of Caliban, Britain's colonial past and the behaviours of the colonising characters in the text.
Summer – Historical protest with inclusion of Nelson Mandela, extracts from his autobiography and the history of apartheid.
Skills – debates around the misconceptions and stereotypes of Black people in society.
Year 9
Spring – Boys Don't Cry, an Own Voices text by a Black writer that does not tokenise Blackness but does explore Black experiences.
Summer – A Raisin in the Sun, another Own Voices text that looks at the lives of African Americans, Africans in America and issues around diaspora.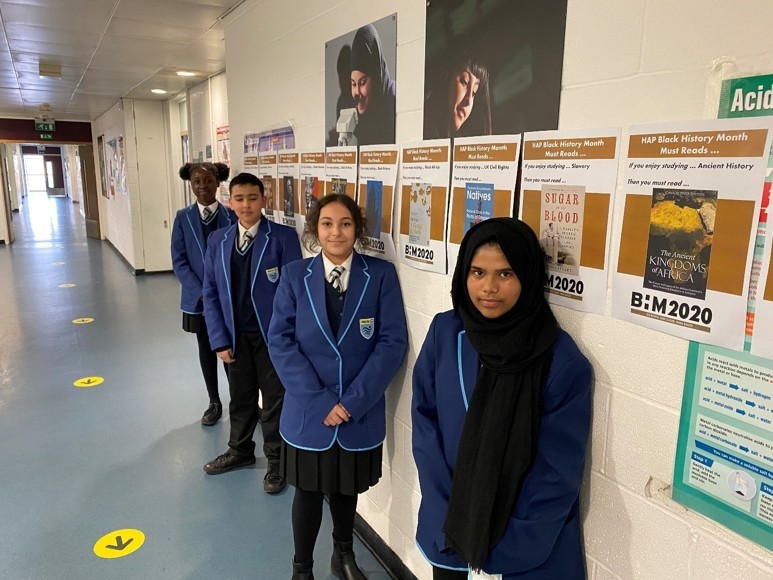 Black History Month posters around the school were designed to pique students interest in reading further on black history.
Key Stage 4
History
Creation and distribution of additional reading on Black history that connects with GCSE units on the study of medicine, Elizabethan England and Weimar and Nazi Germany.
English
Modern text swapped from An Inspector Calls to Pigeon English to be more relatable to students.
Greater use of Black writers and literary experts as well as images of black people in language and unseen poetry texts.
Discussions around representations of Black people in the media.
Department World Book Day talk to Year 11 – segment on Own Voices texts and reading diverse texts that reflect identity with Roll of Thunder Hear My Cry and Legendborn, texts by Black authors, used as examples.
Equality, diversity and inclusion training for the dept.
The department also attended a talk during INSET day to all English teachers in the Federation regarding the teaching of diverse texts to students and the importance of equality, diversity and inclusion.
One of our members of staff, Ms Neburagho-Bishop, is also part of an equality, diversity and inclusion in English working party across the Federation.
Additional equality, diversity and inclusion initiatives
Inclusion of gender and queer theory into texts at KS3.
Inclusion of extracts from I Am Malala in 'historical protest' unit.
Shakespeare's women unit at Year 7.
Extra-curricular
Black History Month celebrations. These included the previously mentioned additional reading for KS4 students; a discreet lesson on Mansa Musa which related to units of study across KS3 (including Medieval Monarchs, Islamic civilisation and Civil Rights Movements) and Mansa Musa's relevance to these topics; and posters celebrating and encouraging students to read work by historians, including Black historians, on Black history.
Autumn Tutor Time included a show and tell project where students celebrated personal artefacts relating to their Culture.
While the school building was closed due to Covid, students were given the opportunity to share their personal experiences of lockdown using inspiration from a poem written by a member of staff about Windrush.
Connect with us…
and stay up to date with all things Harris Careers!