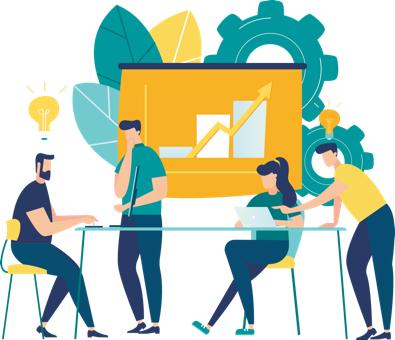 About us
Discover more about the Harris Federation and what it's like to work at one of the UK's largest academy trusts
We established our first academy nearly 30 years ago. We now educate 1 in every 41 pupils in London. Through the hard work and success of our people, we have a track record of implementing rapid school improvement and have built an unrivalled reputation for running outstanding academies in London.

We believe that educational excellence comes from teachers who have the freedom to teach brilliantly, opportunities to develop and progress their careers and support from an organisation run by people who have a wealth of experience and understand teaching and learning.
The Harris Federation Head Office
Nestled in the bustling centre of Croydon, a stone's throw from East Croydon train station and within walking distance of a wide variety of shops, restaurants and bars, Harris' Head Office is the home of the Federation support services.
Having a centralised support structure means that teachers and leadership at academies can focus on teaching and providing the best education to their students rather than worrying about things like invoices, contracts and recruitment. Thanks to economies of scale, our centralised team saves academies money and relieves some of the pressure on academy staff, allowing them to focus on what they do best, providing an amazing education to London's young people.
Departments within Head Office include: Finance, HR, Talent Acquisition, IT, central team consultants, internal audit, estates management, procurement, fundraising, governor services, data management and MIS.
All our staff at Head Office are just as dedicated to, and just as important in delivering educational excellence to our students across London.
Primary Education at Harris
We now have 20 primary academies situated in over 6 London boroughs, as well as 3 all through academies. Each primary academy inspected so far by Ofsted has been judged Good or Outstanding (79% Outstanding), with many of these joining the Federation as previously failing schools which are located in challenging areas of London. 
In addition to great rapid school improvement work by our senior leaders and teachers, we also have an increasing number of free school projects. Our free schools are purpose built, state of the art facilities with founding leadership teams and teaching staff who grow the academy a year group at a time.
You can find out more about individual primary academies via the Our Academies page.
Hear from our teachers about primary teaching at Harris
Find out more
Secondary education at Harris
We currently have 28 secondary academies, including 3 through academies, and 2 standalone sixth forms in London, and almost all of our inspected secondary academies - 19 out of 20 - are rated outstanding by Ofsted.
In the years since we formed the Harris Federation, we have consistently delivered outstanding results for the young people in our academies. Our average Progress 8 score in 2018/19 was +0.39 compared to 0.03 nationally with many academies top for pupil progress in five of the nine boroughs we operate in. This track record is unmatched anywhere else in the education system.
You can find out more about individual primary academies via the Our Academies page.
Hear direct from our secondary teachers what it is like to work at Harris
Find out more